Educating. Entertaining. Empowering.™
Blowing-away your salespeople or employees with Brent's Top Secret™ presentations designed exclusively for business audiences at Sales-Meetings, Awards Banquets, Kickoffs, Keynotes, Breakout Sessions, and User-Group Meetings.
Large-Scale Illusions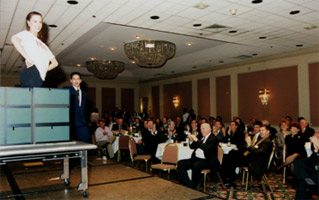 Top Secret™ presentations will your organization to be more productive, move creative, more innovative, more profitable. Brent will incorporate many different elements to emphasize specific points. His most valuable element is Brent himself. This is because Brent is so adept at customizing his presentation to enable you to achieve your objectives.
You'll learn some very specific techniques for problem-solving. You'll learn more about thinking outside-the-box. Imagine a business speaker who also does amazing magic. Or, is he an amazing magician who also happens to be a sharp businessman. He's hard to describe, but wonderful to experience; your audience will marvel at Brent's creativity, meaningful content, and uniqueness.
Brent will use stories, anecdotes, examples, and fabulous magic and humor to help communicate his message. Brent will customize his program to your needs. He'll integrate your specific goals/objectives into his program. He'll also perform specific magic routines which best illustrate the message.

Using high-caliber magic, funny comedy, anecdotes, stories, examples, Brent will give your audience strategies, tools, knowledge, and wisdom to help them to solve problems, to help them solve 'impossibilities,' to reframe problems to learn to think outside-the-box. You'll gain some insight into how magicians think. Brent will also even reveal – well, sort of – some of the secrets magicians use to create magic some of which will help you in your business lives.
If even one of his strategies is even partially used one time, every two weeks and each of these results in increased sales; the result is tens, hundreds, and even millions of dollars, literally. Most of Brent's clients are repeat clients, which is Brent's goal. When he's asked back, he knows he's on the right track.
Brent features three different topics, each with different objectives and goals. Brent is eager to discuss your upcoming event(s) and whether or not he'd be a good fit for you and you for him. To learn more about each of Brent's programs, call Brent at 636-537-3900 or e-mail him at brent@brentloewenstein.com